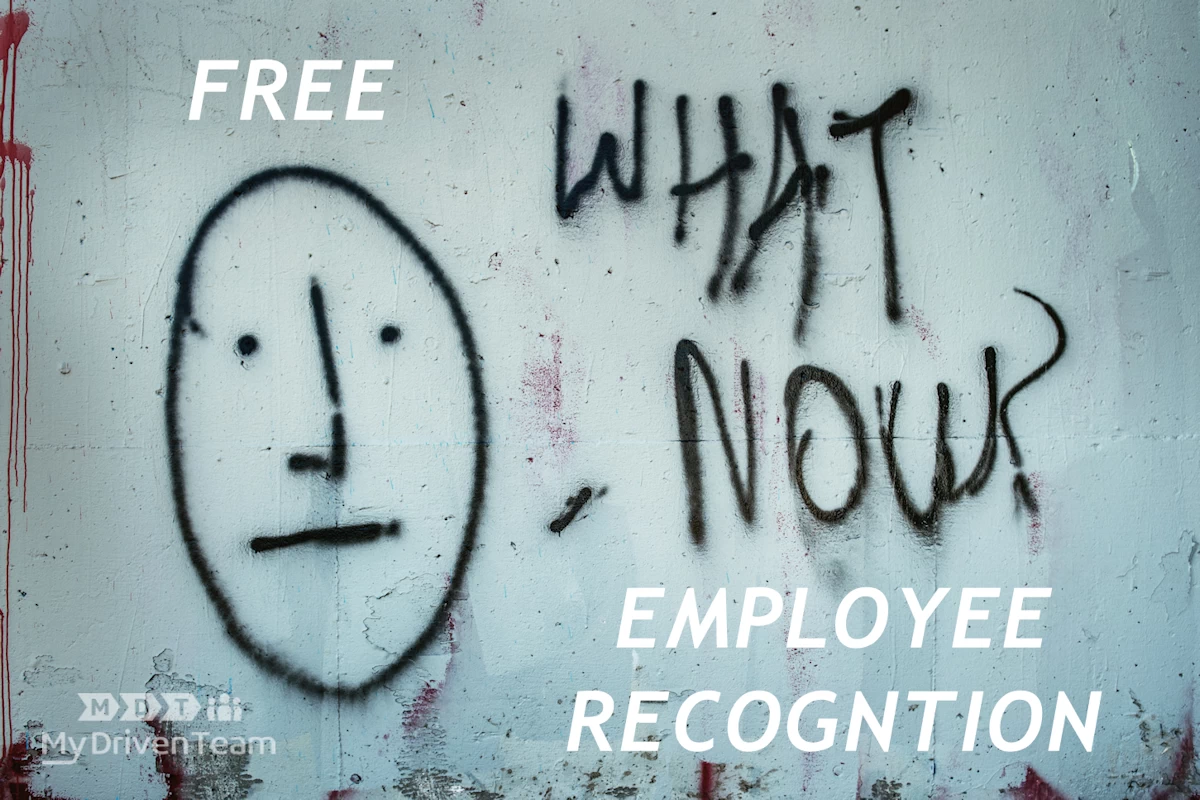 When it comes to running a business, it seems like everything costs something! With limited resources, the question is always, "what is my return on investment?".  Team recognition is one of those things that can provide a significant ROI and doesn't need to cost more than a little time and appreciation (which is good for your soul anyway).
That said, in a virtual world, telling someone when they've done a good job and making that visible to the team starts to get a little complicated. Sure, you can buy expensive software and connect it to your operating system , but that can be a pretty big lift for something as simple as saying, "you are doing a good job!".  The best thing would be to find something that helps you do this that is simple, effective, and FREE!
If you find yourself on a mission to get this done, then building a free virtual recognition board only takes the following steps:
Set it up!
So, in order to support your efforts on this, we've reviewed over a hundred employee engagement platforms, identified the key functionalities, and selected 10 that will give you at least a free trial. In addition to that, we've created our own version of an "ad-hoc" employee recognition board using google sites (assuming you are committed to the FREE part).
Read below as we go into more details for each of these steps, show you an example, and share a list of paid options.  Let's start with…
Why Recognition Is So Important…
All humans want to feel appreciated; this is a universal truth.  The problem is that many team members feel under-appreciated.  Worse yet, Team leaders often feel exactly the same way, which doesn't make them want to share the love.  It's a vicious cycle for sure!
In addition to this, many people believe that the reward associated with doing the work should be enough.  Whether it's a paycheck, a product that you are proud of, or a feeling you get from helping someone.  To be clear, those things ARE absolutely critical, but they are DIFFERENT from feeling appreciated.  Feeling appreciated is like feeling special or important.  You don't get this from a paycheck.
The funny thing is that by showing appreciation, you actually get rewarded yourself.  I've personally experienced this!!!  Just by saying, "Hey!  The work you are doing for this team is making a difference!".  Now, if you do that in front of others, the message is amplified!!!  All of that said, I'm guessing you already understand this, which is why you are reading this, so let's move on to the fun stuff!
What is the Difference Between Reward & Recognition
Reward and recognition typically get talked about like they are the same thing.  That is far from the truth, so let's distinguish between these two.  The applicable Oxford Language definitions say:
Reward =
A thing given in recognition of one's service, effort, or achievement.
"the holiday was a reward for 40 years' service with the company"
Recognition =
Appreciation or acclaim for an achievement, service, or ability.
"his work was slow to gain recognition"
Connect the two and you have a one two punch for showing people that their service matters!  I highly recommend this, if you have the resources for it.  I've personally been in both scenarios and believe you can function with or without rewards.  Rewards are great, but can turn into an expectation, which quickly diminishes their value (and sometimes can create hard feelings).  However, recognition is simple in that if done sincerely, it can at a bare minimum bring a smile to someone's day.
Whatever you choose, just be clear that they are two different things that require separate energy.  Giving someone a gift card for doing a good job, and telling them "good job" are two separate actions even if they can be accomplished at the same time.  Making that information available to the rest of the team and amplifying the message is really where the value lies for a recognition board.
What Does Good Look Like?
The great thing about creating a virtual recognition board yourself is that you get to design it how you want.  What are the critical things that help you show appreciation to your team members?  Here's a list of critical elements and an explanation of each:
Give the Program A Memorable Name.
If you think about the old idea of getting people talking at the water cooler…the worst thing is when someone says how great something is, but they can't remember the name of it.  It could be a show, or a drink, or even a person.  Think of it as branding.  Come up with a name people can remember.  Make it catchy!  Get the team involved and have some fun with it!
Make Sure The Program Is Attractive and Easily Accessible.
I once created a physical recognition board at work.  It was cool!  We had team pictures and plaques and all of that.  You know the one problem I had with it?  It was located in a terrible spot.  Nobody really ever saw it.  I don't know how many times I had to point out to people that the wall even existed!  Don't let your virtual version fall into the same trap.  Once you create it, you have to make sure people bookmark it.  Even better, if you can get it set up as the default landing page for your team-mates that would be great.  At least make sure that when it's updated, something alerts people to the updated.
Use Employee Photos (if possible).
Photos are a touchy subject.  Not everyone wants their photo taken, but some don't mind, while others love it.  The challenge is that a photo really does tell a thousand words!  If you can pull it off, a personal photo of someone is magic.  A great smile communicates so much!
Some ideas on getting photos of people who are resistant:
Let them give you a photo instead of taking it
Let them use an avatar or meme that makes people laugh (appropriately or course)
Use a group photo to take the anxiety out of it
Clarify & Post The Criteria For Getting Nominated and / or Winning.
Here again, this is greatly dependent on what your recognition consists of.  If you are just saying, "hey, you are awesome!", then maybe there isn't much more.  However, if you really want to make it more of a competition, then people need to know the rules.  If you get team members competing and you don't have rules, then don't be surprised when people start claiming, "this is unfair".
Create a Place for Testimonials.
Testimonials are great!  They are a powerful way to reinforce a message.  Of course, the tricky part here is keeping it positive.  Not everyone will see things in a positive light.  Since this is a positive recognition board, the best thing to do is to filter negative comments.  Either way, if you can find a way to engage other team members on positive attributes of the person or team being recognized, the message and impact will be amplified.
Create a Place for More Info About The Person Being Recognized.
It's always nice to give a little personal info on this kind of board.  Again, you are trying to make them feel special.  How long have they been with the team?  What kind of accomplishments are they proud of?  What are their other interests?  Of course, this should only be things that they feel comfortable sharing.  Just make sure they feel valued and important !
Lastly…
To me, this goes without saying, but I must say it.  If you are not an HR professional and you are attempting to do this in a professional setting, you should seek the guidance of HR or Legal to make sure you are following all legal requirements.  The last thing you would want to do is invest time into something that ends up breaking the law or hurting peoples feelings!!!
Should Our Board Be Public or Private?
First step, before we go too far, is to decide on whether this should be a public or a private group.  Do you want this accessible to the entire world or are you looking to keep it to a specific set of individuals?  This is important because allowing a recognition board to be public, means that anyone in the world can see, comment, and share what you have posted there.  Not everyone will be ok with this.  More than likely, if you are working in a professional environment, you'll want this to be private.  However, if you are working with a public team or voluntary situation your team might be totally fine with being public.  All four of the options listed below can facilitate it both ways, you just have to set it up the way you want it.
Google Sites:
Google sites is a simple, free website builder.  It's very intuitive and extremely easy to use.  So easy, that I set up a virtual recognition board just for this article!  It took me about 20 minutes to do this.  Here is a link to the example and a youtube video showing how to use google sites: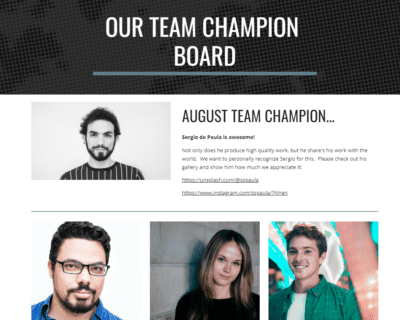 Facebook or LinkedIn Group:
Facebook and LinkedIn Groups are powerful tools for connecting with people online.  You are probably already members in one or more of these groups.  However, did you know you can create group just for your team?  Choosing one of these options allows you to not only recognize your team members, but it can also allow a wide variety of discussions to happen.  Although you should be cautious with opening up chats about anything, if focused on positive recognition and respectful appreciation, both are great options!
What's the difference between the two?
According to Social Media Today:
"Within a LinkedIn group, members can post discussions, job listings, links, and can select an icon. Facebook group members however, can share photos, videos, create events, host live webinars, tag other members, check-in, and even share how they feel."
Here are videos on setting up both Facebook and LinkedIn Groups for your virtual recognition boards:
Communicate, appreciate, and update (repeat)
Communicate
Once you've set the table, it's time to let everyone know!  Blast emails and chats are the easy way, but getting the rest of the team involved also helps.  It's completely normal that people ignore emails.  So, you'll have to get creative on how you get everyone's attention.  The important part here is not to give up!  Don't be shy to talk to it in virtual meetings or even ask people if they've seen the latest team recognition.  Make some noise for your awesome team member!!!
Appreciate
All of this can be a lot of work.  And more than likely, this isn't your full time job.  You can even start to feel under-appreciated yourself.  So, how do you navigate all of this?  Divide and conquer!  I would suggest that someone first own setting up the board itself.  This will take some focus, but can be done in a short period of time.  Then you still have the regular updating.  So, ask team members if they would be interested in helping.  The more you can get the rest of the team involved, the easier it will be to maintain.  This will also help with the communication, because the team will appreciate the effort that went into getting this done.
Create a Schedule or Cadence for Updating.
There is a shelf life to showing appreciation.  After a few weeks, the message becomes stale.  Worse yet, if you leave it up unattended, it starts to look like you don't care.  The best thing you can do is keep it fresh.  Weekly may be too much.  Quarterly may be too little.  It really depends on the team and what you are recognizing.  So, set yourself a reminder and stick to it!  Your team deserves it!!!
Top 10 FREE Virtual Team Engagement Options (at least a free trial):
Ok, so you've now seen (at least at a high level) what it would take to create your own free virtual recognition board.  Maybe that's perfect for you?  Maybe it's not?  If you are looking for more, then below we've researched and found 10 different options that allow at least a free trial to get the party started:
Summary
First and foremost I applaud you for even thinking about doing something like this!  Recognizing people for doing good work is an important step towards building a strong team!  As I said earlier, giving this kind of recognition comes with its own rewards.  While I hope you are not doing it just for that, it is a possible outcome.  The only thing I want to close with is this bible verse:
"When you give … do not let your left hand know what your right hand is doing" (Matthew 6:3).
This verse is soooo important for something like this.  You are literally "giving" praise.  If people suspect you are doing this to get attention for yourself, it WILL backfire.  So…check your heart before you start!
That said, I believe that if you've made it this far, you are likely doing this for the right reasons, so kudos to you!  Enjoy the process and smiles that you are about to see!
Good luck and may God Bless You and Your Team!